Aqua Secret fillers in face is made from hyaluronic acid, which is the same as human skin. Aqua Secret hyaluronic acid filler treatment not only has anti wrinkles, hump nose, lip filling enhacement, facial depression filling effect, but also allows cells to regenerate, so that the skin becomes younger. It can apply to many places and shapes beautiful and healthy faces. It has the advantages of being able to return to normal life immediately after treatment, and it is very suitable for busy modern people.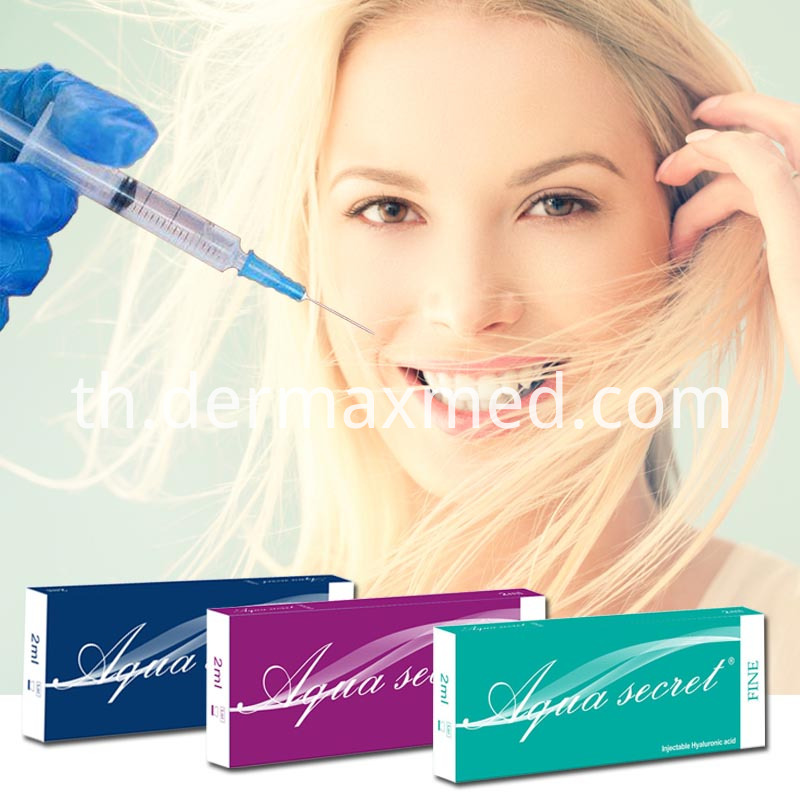 Product Description
Aqua Secret HA® is biodegradable gel made of no-animal cross-linked hyaluronic acid. They offer a complete solution for treating facial lines, wrinkles, and lips. It can also be used in facial sculpting by enhancing natural facial contours and features.
There are 4 types of Aqua Secret products can be choosen:
Aqua Secret FINE – for correction of thin lines, across the forehead and around the eyes and mouth.
Aqua Secret DERM – for treatment of wrinkles and lip enhancement.
Aqua Secret DEEP – for correcting deep folds, creating fuller lips and shaping facial contours, such as cheeks and chin.
Aqua Secret ULTRA-Q - for enlargement of breast and buttock augmentation.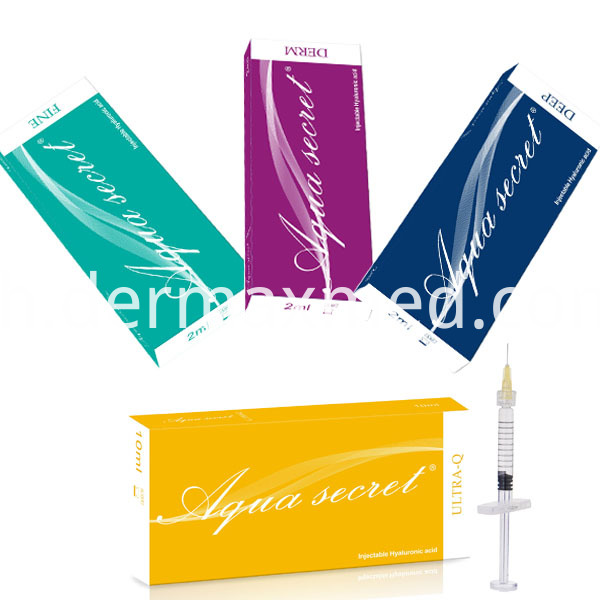 Function
Wrinkle removal and depression filling.
Hyaluronic gel injections can easily remove your facial wrinkles, such as wrinkles between the eyebrows, annoying nasolabial folds, etc.
In general, the main functions are removing forehead lines, eyebrow lines, crow's feet, neck lines, and other facial fine lines.
Besides, nasojugal fold, nasolabial fold, etc can also be filled by best hyaluronic acid filler, to restore the smooth and young in the past.
Perfect shaping effect.
Hyaluronic acid filler injections is also called "God's clay" because if it's shaping function.
Hyaluronic acid is a kind of viscous liquid, which can fill the skin volume when injected into the skin. Then by the shaping of skilled doctors, you can get the perfect facial shape.
At present, the most common treatments are shaping forehead, nose, cheek, temple, lobes, lips, chin, etc.
Safety & Quality
Aqua Secret products are subjected to strict manufacturing controls and designed and tested to comply with applicable European and International standards. All implantable grade raw materials used in the manufacture of Aqua Secret products are manufactured following GMP guidelines defined in 21 CFR, part 820 and are designed and tested to meet ISO 10993 requirements.
Excellent Quality Assurance
- The quality management system is comply with ISO9001:2000
- On-site Gmp Inspection
- Free sale Certificate
- CE Certificate
IMPORTANT SAFETY INFORMATION
- Are there any reasons why I should not receive any Aqua Secret injectable gel formulation?
Do not use these products if you have a history of multiple severe allergies or severe allergic reactions (anaphylaxis).
- What precautions should my doctor advise me about?
Tell your doctor if you are pregnant or breastfeeding. The safety of these products for use during pregnancy or while breastfeeding has not been studied
Tell your doctor if you have a history of excessive scarring (eg, hypertrophic scarring and keloid formations) or pigmentation disorders, as use of these products may result in additional scars or changes in pigmentation
Tell your doctor if you are planning other laser treatments or a chemical peel, as there is a possible risk of inflammation at the treatment site if these procedures are performed after treatment
Patients who experience skin injury near the site of injection with these products may be at a higher risk for side effects
Tell your doctor if you are on immunosuppressive therapy used to decrease the body`s immune response, as use of these products may result in an increased risk of infection
Tell your doctor if you are using medications that can prolong bleeding, such as aspirin, ibuprofen, or other blood thinners, as this may result in increased bruising or bleeding at the injection site
Minimize strenuous exercise, exposure to extensive sun or heat, and alcoholic beverages within the first 24 hours following treatment
- What are possible side effects?
The most common side effects include tenderness, swelling, firmness, lumps/bumps, bruising, pain, redness, discoloration, and itching. With Aqua Secret injectable gels, most side effects are mild or moderate and last 14 days or less.
Analysis of clinic test effect
Statistic analysis shows that during the clinic test observation period (≤24 weeks), Aqua Secret hyaluronate gel has good clinic treatment effect and can effectively remove wrinkles and local indent. All performance indicators of the products meet the expected targets and comply with the clinic requirements. During clinical process, no serious complications or adverse reaction occur, showing that it is of considerable safety.
ประเภทผลิตภัณฑ์ : Dermal Filler